The digital driven platform that brings together utilities and customers
OnBoarding Funnel is the digital onboarding software that enhances your sales thanks to a suite of innovative tools that take business processes to the next level by centralizing collection channels, coordinating the work of internal teams and partners and optimizing the commercial back office with efficiency, accountability and compliance in mind.
Thanks to an ecosystem of modules and plugins, it enables all direct and indirect sales channels – web self, web-assisted, inbound and outbound teleselling, agencies and agents – and easily connects to corporate applications, the Integrated Information System, commissioning programs and credit score services.
Also, it natively integrates a Digital Transaction Management platform for a convenient and secure digital signature, incredible Customer Communication Management features and an Enterprise Service Bus.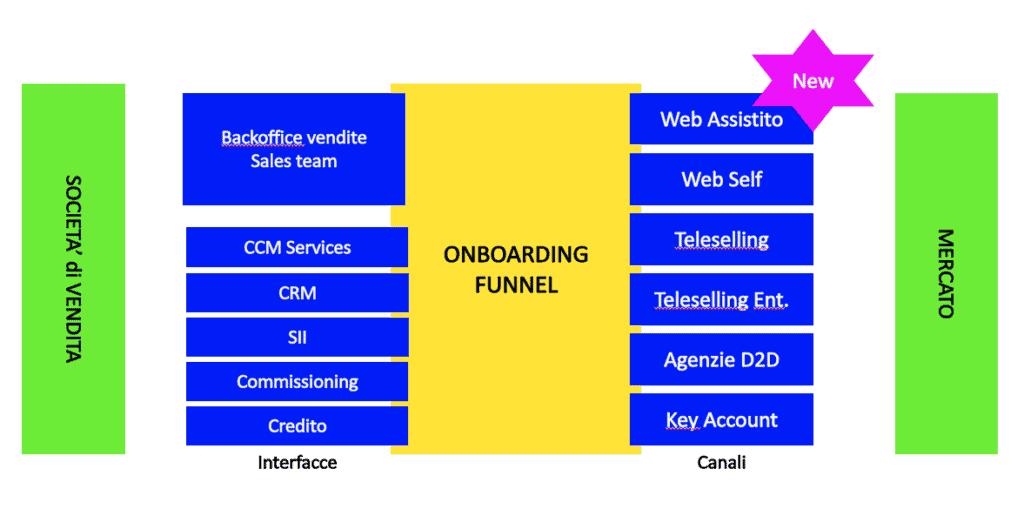 Why choose OnBoarding Funnel?
Do you want to boost your sales thanks to the power of digital? OnBoarding Funnel makes web contracts accessible to all users, triggering a relationship of trust and total transparency from the first contact.
It's the magic of Assisted-Web: it can be used in both inbound and outbound activities, transforms call centre operators into commercial assistants, suggests the most suitable operations and reduces contractual data collection time by 50% compared to traditional teleselling. During the phone call, the customer receives via email or text a convenient link to the summary page of the proposal and though it can directly modify any inaccuracies or request assistance. The real-time generation of the envelope, the OTP digital signature and the uploading of mobile-first attachments allow the digital closure of the contract in a few minutes instead of days, eliminating the vocal order. 
Centralize channels and partners' work
Unsatisfied by your company's collection processes? OnBoarding Funnel helps you achieve more thanks to partner coordination, team performance measurement, non-conformities resolution and reduction of operating costs with attention to compliance and accountability. 
OnBoarding Funnel centralizes acquisition channels, internal teams and partners on a single modular software platform, configurable and easily integrated into the company application map. Inbound/outbound call centres, agents and agencies, internal salespeople: they all work on OnBoarding Funnel. Contracts, attachments, processes are aligned in real-time, maximizing operational efficiency and facilitating performance monitoring.
Simplify the commercial back office 
Do you want to optimize the management of orders and customers? OnBoarding Funnel organizes the processing of contracts in the commercial back office in an end-to-end, cross-channel and fully configurable process. The internal and external teams collaborate in real-time, in full compliance with the ARERA directives and privacy legislation.
OnBoarding Funnel allows you to configure sample quality checks and standard lead times in a few clicks and to easily monitor operational activities in the KPI dashboard thanks to a detailed and always updated overview. Furthermore, you can choose whether to use the stand-alone OnBoarding Funnel with standard exports or integrate it into the application map thanks to the native ESB module.
Are you a manager in the utility sector?
Discover the benefits of digital driven sales.
Request your free demo and start boosting your customer onboarding and commercial back office operations right away with the OnBoarding Funnel.